Charity event, 3rd July 2015

Venue: Horton Park Golf Club
Time: 2000, Jul 3, 2015
Homepage: http://hortonparkgolf.com/
Address: Hook Road, Epsom, Surrey, KT19 8QG, UK
Admission fee: £10
Age restriction: 18+
This will be a charity event with us supporting the lovely and talented Exit Strategy — starting at 8pm. Mark your calendars now!
It's taking place at Horton Park Golf Club, and here's the poster (click for a larger version)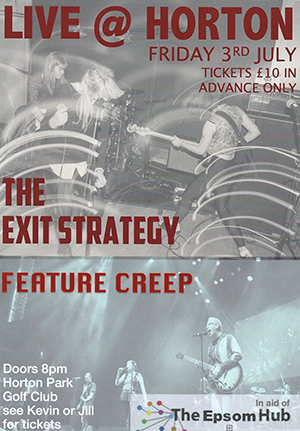 .
If you'd like tickets, please drop an email to info@feature-creep.co.uk and we will see you right!